Windows Has Recovered From An Unexpected Shutdown
i didn want to power off the computer without saving my data. but i had to choice but hard boot the machine. after i restart my computer windows gave this message that says windows has recovered from an unexpected shutdown [1671], Last Updated: Sun Mar 01, 2020
---
Samu77
Sun Sep 26, 2010
1 Comments
224 Visits
---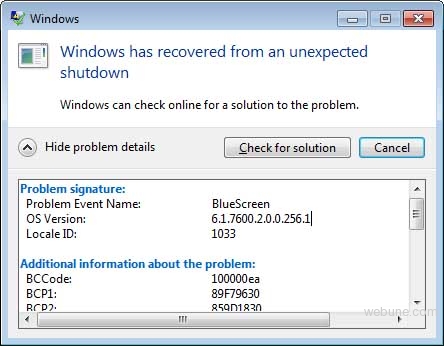 today, like many other days, my windows 7 computer crashed. i was working on my video settings when all of the sudden, my screen goes dark. i had to video. i tried everything, even connecting an external monitor so i can save my data, but it was frustrating because i didn want to power off the computer without saving my data. but i had to choice but hard boot the machine. after i restart my computer windows gave this message that says:

windows has recovered from an unexpected shutdown
windows can check online for a solution to the problem

so when you click on show problem details is says:
Problem signature:
Problem Event Name: BlueScreen
OS Version: 6.1.7600.2.0.0.256.1
Locale ID: 1033

Additional information about the problem:
BCCode: 100000ea
BCP1: 89F79630
BCP2: 859D1830
BCP3: 85BFE890
BCP4: 00000001
OS Version: 6_1_7600
Service Pack: 0_0
Product: 256_1

Files that help describe the problem:
C:\Windows\Minidump\092610-36847-01.dmp
C:\Users\laptop\AppData\Local\Temp\WER-66877-0.sysdata.xml

Read our privacy statement online:
http://go.microsoft.com/fwlink/?linkid=104288&clcid=0x0409

If the online privacy statement is not available, please read our privacy statement offline:
C:\Windows\system32\en-US\erofflps.txt


i tried to open the 092610-36847-01.dmp file using notepad but i only got garbage, does anyone know how i can read a file with a .dmp extension?
---