Getting IP Address From Ipconfig Command
Getting IP Address From Ipconfig Command
Post Description: Getting IP Address From Ipconfig Command
Tags: Getting, IP, Address, From, Ipconfig, Command
This Post Was Posted On Oct 28, 2009 By Webune #1045
Getting IP Address From Ipconfig Command by
Webune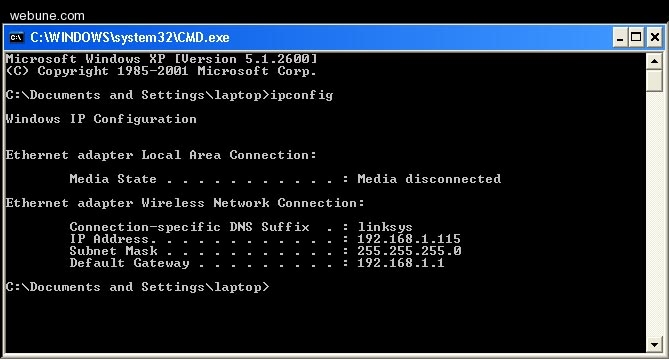 ok now that you have launched the DOS terminal you will see a screen just like mine above.
so enter this command:
ipconfig
when you type this command hit enter on your keyboard and you will see information displayed on your screen.
this is the output i got when i send ipconfig

Windows IP Configuration
Ethernet adapter Wireless Network Connection:

Connection-specific DNS Suffix . : linksys
IP Address. . . . . . . . . . . . : 192.168.1.115
Subnet Mask . . . . . . . . . . . : 255.255.255.0
Default Gateway . . . . . . . . . : 192.168.1.1
as you can see from the output, my IP Address is 192.168.1.115.
write down your IP Address and give it to edwin
edwin will tell you if you need to go to the next step
NOTE:
if your ip address starts with a 192 then you will not be able to use remote assistant
why? because you need a public ip address, and 192 ip address is a private ip address
Follow Each Step:










rethu
#10170 1
The information which you shared here is valuable.Here i mentioned another method how to find the ip address through online sites.There are many online sites are available to do a ip lookup.recently i found this site
ip-details.co through google search to do ip lookup.
Feb 28, 2013 Reply Report abuse
©2013 Webune Forums - Thu Feb 28, 2013 6:53 am
Powered by: Webune Forums V3