do you have verizon wireless internet and you are using their vzaccess manager to connect online. and when you try to tether you mobile phone to your laptop or computer you get this error that says [1792]
---
Vmzzzzzz
Thu Jun 24, 2010
6 Comments
891 Visits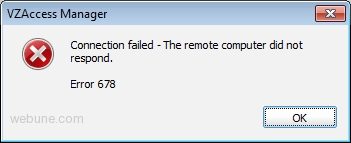 do you have verizon wireless internet and you are using their vzaccess manager to connect online. and when you try to tether you mobile phone to your laptop or computer you get this error that says:
connection failed - the remote computer did not respond.
error 678
so you want to know how to fix it. if you are getting this error you are probably frustrated because you get this error too and you can't get help from verizon. well, i m going to share how i was able to fix my problem
step 1 - restart your computer
step 2 - restart your mobile phone, i have a blackberry, i just shut it down, wait 10 seconds, and then power it back on.
then try again, it should work this time.
i have an hp laptop dv2000 with windows 7