Connection Failed The Remote Computer Did Not Respond Error 678
Connection Failed The Remote Computer Did Not Respond Error 678
Post Description: do you have verizon wireless internet and you are using their vzaccess manager to connect online. and when you try to tether you mobile phone to your laptop or computer you get this error that says
Tags: connection, failed, the, remote, computer, did, not, respond, error, 678
This Post Was Posted On Jun 24, 2010 By Vmzzzzzz #3493
Connection Failed The Remote Computer Did Not Respond Error 678 by
Vmzzzzzz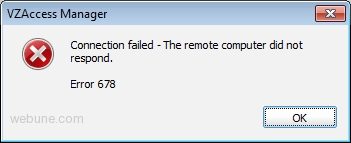 do you have verizon wireless internet and you are using their vzaccess manager to connect online. and when you try to tether you mobile phone to your laptop or computer you get this error that says:
connection failed - the remote computer did not respond.
error 678
so you want to know how to fix it. if you are getting this error you are probably frustrated because you get this error too and you can't get help from verizon. well, i m going to share how i was able to fix my problem
step 1 - restart your computer
step 2 - restart your mobile phone, i have a blackberry, i just shut it down, wait 10 seconds, and then power it back on.
then try again, it should work this time.
i have an hp laptop dv2000 with windows 7
Leave Your Comments
Related Pages:
[Add Your Website]
Post New Topic
andrea
#5072 1
i dont like verison, they suck
May 05, 2011 Reply Report abuse
pepper
#4748 2
also have the same problem. tried rebooting it and then it works.=)
Jan 09, 2011 Reply Report abuse
Caliburbob
#4655 3
much appreciated the really simple reboot advice. worked great and i am up and running. thaks again.
Nov 29, 2010 Reply Report abuse
landi
#4346 4
i was able to fix mine. i went to network connection configuration and set it to verizon connection. for some reason, i was messing around with my phone and i changed a configuration setting. after i changed it and i restarted my phone it worked. thanks for your help, i thought verizon had disconnected my internet service because i exceeded the limit. but i came across your article. unlike dave, it worked for me.
Aug 13, 2010 Reply Report abuse
dave
#4344 5
worst help ever
Aug 13, 2010 Reply Report abuse
blom
#4262 6
oh wow. thats great people like you report these problems because i had the same issue error message as 678 using verizon access manager for internet connection
Jul 28, 2010 Reply Report abuse
©2012 Webune Forums - Wed Dec 12, 2012 7:41 pm
Powered by: Webune Forums V3