How To Create Sub Domains Or Co-Domains In Ispconfig Web Hosting Panel
How To Create Sub Domains Or Co-Domains In Ispconfig Web Hosting Panel
Post Description: How To Create Sub Domains Or Co-Domains In Ispconfig Web Hosting Panel
Tags: how, to, create, sub, domains, or, co-domains, in, ispconfig, web, hosting, panel
This Post Was Posted On Sep 25, 2009 By bigger_travis #2096
How To Create Sub Domains Or Co-Domains In Ispconfig Web Hosting Panel by
bigger_travis
I am posting this message here because recently i had to contact www.webune.com because the dedicated server i have with them, i installed ispconfig to play with it, but i couldn't figure out how to create sub-domains or as ispconfig calls it, co-domains. I had asked this question from webune before but i forgot how to do it, so they were kind to guide me again, so this time i am making a small tutorial to benefit other people like me who are trying to figure out how exactly to create subdomains in ispconfig. so here we go... to give you a real life example, lets say i want to create a subdomain like this: test.wallpaperama.com
1. login to your control panel and select the website you want.
2. go to the co-domains tab
3. click on the "new" button
4. enter the hostname (this is whatever you want, in my example i will be using test)
5. next enter the domain name (in my example would be wallpaperama.com)
6. now select the option create DNS
7. for the MX option, i don't know what exactly this is for, but i am sure it has to do something to do with email, i don't select it)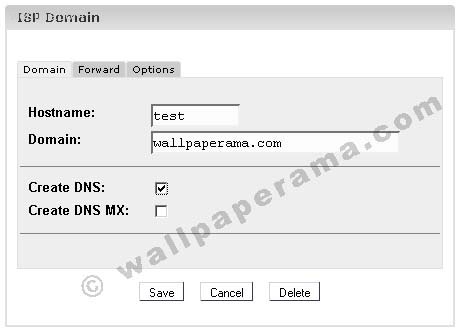 9. now go to the "forward" tab, and enter a directory name. (for my example i will call it wallpaperama.com) you dont have to forward, but if you don't put anything here, then when you go to test.wallpaperama.com all the traffic will go to your web site root directory, so that's why i am putting wallpaperama in my example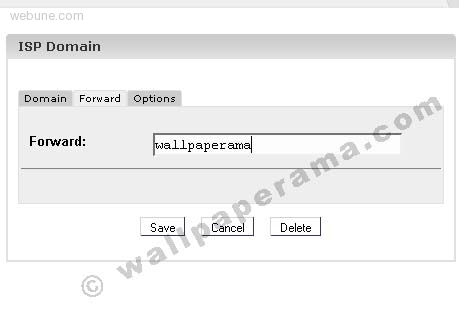 10. now hit the save button
11. its time to create a directory in your web directory, so for the purpose of this tutorial, i will be creating a directory called "wallpaperama". connect to your site with your FTP program and create a directory.
12. now upload whatever files you want to show in test.wallpaperama.com to test that it really work, upload an index file like: index.html
thats it.
Thanks to the expert at www.webune.com for their technical support on this issue. now if i forget how to do this in the future, at least i can come back to this post and find out how to do it.
Leave Your Comments
Related Pages:
[Add Your Website]
Post New Topic
ispconfig
#3289 1
i want to have ispconfig 2 add co-domain without www

can that be done, if so how do you possibly do it, show me
Jan 20, 2010 Reply Report abuse
xpert-zone
#2193 2
lol its pretty complex control panel i am thinking of removing it if i won't able to understand today.
Jul 25, 2009 Reply Report abuse
gluki
#2192 3
nonsense!!!
sub-domain (sub.example ) must be managed in currently managed domain (example )
question is - possible or not in ispconfig???
Mar 18, 2008 Reply Report abuse
Ben
#2191 4
there is a way, it takes a different approach though. you have to create a new site with the subdomain instead of an "co-domain."

say you have "example "
instead of creating a co-domain titled "sub.example ", you must create an entirely new site at "sub.example "

hope that helps any people that find this page via search engine.
Feb 15, 2008 Reply Report abuse
ds
#2190 5
same problem
Apr 28, 2007 Reply Report abuse
James
#2189 6
Hi,

Great article, it was exactly what I was looking for.

I have set up a subdomain, however when I view it, the address changes from:

subdomain.domain. com
to:
domain. com/subdomain.

Is there a way to keep the subdomain.domain. com showing in the address bar?

Thanks!
Mar 26, 2007 Reply Report abuse
©2012 Webune Forums - Sat Dec 15, 2012 5:38 am
Powered by: Webune Forums V3