Cannot Open This Item - Outlook Problems
Cannot Open This Item - Outlook Problems
Post Description: Cannot Open This Item - Outlook Problems
Tags: Cannot, Open, This, Item, -, Outlook, Problems
This Post Was Posted On Sep 27, 2009 By Stweart #2428
Cannot Open This Item - Outlook Problems by
Stweart

was wondering if you could help me with something. i save all my emails for my records. so i created a pst file. now the calendar is having some reminders and when i try to dismiss the items, i get this error:
Cannot open this item. The File C:\Documents and Settings\user\My Documents\Exchange\myfiles.pst has reached its maximum size. To reduce the amount of data in this file, select some items that you no longer need, and then permanently delete them by pressing SHIFT+DELETE. You could also consider using the new Outlook Personal Folders file(.pst) introduced with Outlook 2003 that provides greater capacity for storing items and folders.
do you know whats the best way to fix this problem?
Leave Your Comments
Related Pages:
[Add Your Website]
Post New Topic
raj
#4481 1
introduced wiht outlook 2003 that provides greate capacity for storing item and folders size soltuons
Sep 25, 2010 Reply Report abuse
webune
#2427 2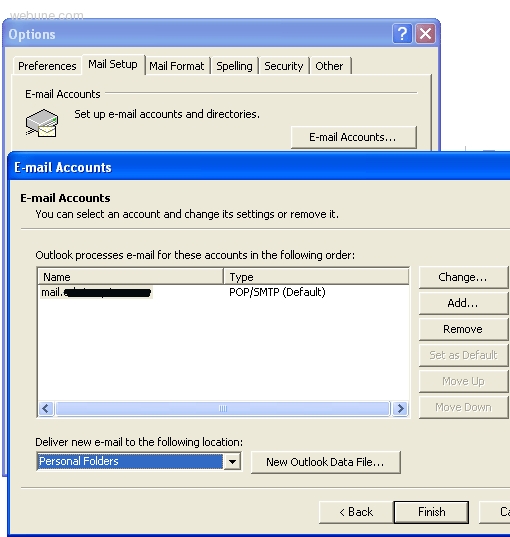 what you need to do is create another pst file. i had the same problem once. me too, i save everything. ahhahaha

just go to Tools > Options

Under the "Mail Setup" tab, click on the button that says: "E-Mail Accounts.."

it will open a new window, Under E-mail:
Select: "View or change existing e-mail accounts"
Click Next

Note on the new window at the bottom it says:
"Deliver new e-mail to the following location:"

so click on the bottom where it says: "New Outlook Data File..." (see image above)

so create it and click OK to save all your changes.

Done. hope that helps
Sep 27, 2009 Reply Report abuse
©2012 Webune Forums - Sat Dec 15, 2012 6:23 am
Powered by: Webune Forums V3