Webune Web Hosting Support And Services Forums Community
Webune Support and Services Forums provides our customer and questions and answer regarding their computer and server technical needs software and hardware
Welcome to Webune Forums. The reason for this forums is to provide support to all our customers. This section is dedicated to support questions many of our customers have asked our support team. As a courtesy, when a solution is found, we publish on this forums to assist other customers who many also have the same issues in a particular category. At Webune we are proud of our excellent support structure to our customers. Our forums provide access to very useful information that will benefit a rapid solution. However, if a solution is not found on this forums, we encourage you to contact our support team, we are available 24hrs a day. We continue to provide support everyday except for special holidays. We welcome you to browse the many topics and tools we have provided in our forums to guide you to resolve an issue with any of our products. Thank you for being a loyal customer, we look forward to providing your with excellent service and support.
---
by Mike
Posted on Fri Jul 22, 2011
---
this answer is wrong. you def can ping by mac address usin ssh.
Read More
---
by douglas
Posted on Tue Sep 29, 2009
---
i have a list available, it contains all the current domain names including .com .net .org etc.. it the file is too large to download here.

let me know if you still need it
Read More
---
by ghulalm
Posted on Wed Mar 20, 2019
---
creating a user management c programming in linux

Read More
---
by Spongebob67
Posted on Wed Nov 23, 2011
---
here`s a pic incase you wanted 1 but it isn`t a 1 ok?
Read More
---
by sajad
Posted on Tue Mar 05, 2019
---
hi my dear friend!
thank you so much for this post
have great day
Read More
---
by narendar
Posted on Thu Feb 28, 2019
---
hey douglas ,

please help me to get the list of all websites in the world

Read More
---
by majaliwa
Posted on Thu Feb 28, 2019
---
thanks the information
Read More
---
by jonne
Posted on Wed Feb 06, 2019
---
thanks! i got it!
Read More
---
by sheikh
Posted on Sat Jan 26, 2019
---
webunecom
thank you very much
Read More
---
by gemal
Posted on Tue Oct 25, 2016
---
its nicebefore now
Read More
---
by aanchal
Posted on Thu Nov 15, 2018
---
your explain is very easy,thnaks for that!

Read More
---
by papa
Posted on Thu Nov 01, 2018
---
que poca madre de hijos de la chingada que me tienen bloqueado el internet,
Read More
---
by odity
Posted on Sun May 23, 2010
---
the way i do it is like this:

for files: 664 you can find out the umask like this

666
-664
-------
002


Read More
---
by judy
Posted on Mon Oct 22, 2018
---
i'm not the only one with this problem, but don't know what to do about it! who can help me and take care of this?
Read More
---
by tellme
Posted on Sat Jan 30, 2010
---
why is it called htdocs
Read More
---
by ojei
Posted on Tue Oct 02, 2018
---
thanks for the info
Read More
---
by rohini
Posted on Mon Sep 17, 2018
---
saved my daythank you
Read More
---
by webune
Posted on Wed Aug 05, 2009
---
hmmm, maybe you can find a list of all the domains but not who owns it, but thats going to be a very long list
Read More
---
by WhiskeyJack
Posted on Tue Aug 09, 2011
---
i had to rename all the files in the folder (just put a zero before all the filenames) for this to work, but it did work! after restarting, photoshop rebuild all the files and she runs without a hitch now.
Read More
---
by zzbottom
Posted on Tue Aug 21, 2018
---
clean and simple
Read More
---
by debdas
Posted on Fri Jun 01, 2018
---
many many thanks
Read More
---
by raju
Posted on Mon Aug 20, 2018
---
thank you very much bro
Read More
---
by yas
Posted on Wed Aug 15, 2018
---
works : thank you!
Read More
---
by networktec234
Posted on Wed Jul 21, 2010
---
Picture Of Demarc, (the provider also calls this: Demarcation point, MPEO or Hand-off):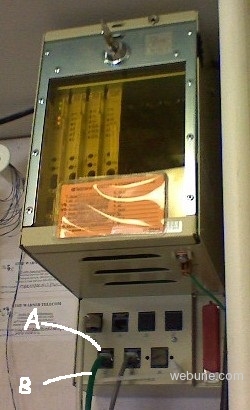 what you need to do is this:

1. make 100% sure its not your inside wiring thats causing the problem. go to the demarc and connect a loopback jack to the end of the cable (B on pic) that is going to your router, then check the interface on your router. you should see the alarm go away. if you see the interface up, then its definitely not your connections. but if you still can't see your interface up, then you probably have to troubleshoot your connections further, change the cables and/or change the ports on the patch panel. and test again.

2. if you tested ok on your inside wiring. call your provider again and tell them you doublechecked your insidewiring and you dont see a problem, ask if they can connect you to a tester.. once you are with the tester, tell them that your troubleshooting and you suspect there is a problem beyond the demarc,

if you have a looping plug, tell them if you can give them a loop back at the demarc so they can check connectivity to the demarc.

once the tester tells you to put the loopack, put it in the demarc jack (A on the picture). (not your wiring) two things will happen..

1. the tester will see the loop, if they see it. ask them to test to it. send pasterns and test for like 2 minutes to see if they see any errors. if they test clean, remove the loopback and connect your router and see if it comes up.

2. if the tester says they can't see a loopback, they you've proved that there is a problem at the demarc.

ask them to dispatch a tech to the demarc (aka MPOE) to come and test this circuit because they can't see your loop. they will most likely agree with you.

they will inform you that they will send a tech to the site, but if they test good, you will be charged.. they have to tell you about the charges by law. so if you agree, tell them ok. ofcourse, you wont be charge if there is a problem and they fix it, so if you've gotten to this point, its most likely that the problems are with the provider so you wont be charge.

Read More
---
by goany
Posted on Mon Jul 30, 2018
---
this is called an favicon its an icon for your favorites you will always find it on any website: for example: http://www.google.com/favicon.ico
Read More
---